472 Main Street, Ridgefield, CT 06877
203-438-2282
203-438-4558 (fax)
www.ridgefieldlibrary.org
Hours: Mon. – Thurs. 10-8 Fri. 10-6 Sat. 9-5 Sun. 1-5 (closed summer Sundays)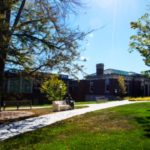 The Ridgefield Library is an intellectual and cultural gathering place, adapting
to the changing needs of our community in an evolving world.
We commit to encouraging creativity, enrichment and lifelong learning, through:
– Expert and supportive staff
– Diverse and relevant programming
– Emerging and tested technologies
– Collections available in myriad formats
193 Danbury Road
Ridgefield, CT 06877
+ Tel: 203-431-7000
+ Fax: 203-431-7001
Hours: 8:30 am to 4:30 pm Monday – Friday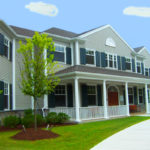 Founders Hall is dedicated to providing a diverse program of social, educational and physical fitness programs for today's active seniors in a warm, fun and stimulating atmosphere.
Email: FoundersHall@founders-hall.org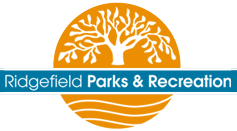 195 Danbury Road, Ridgefield,CT
Ridgefield, CT Parks & Recreation
Mon. – Fri. 6:00 am – 10:00 pm
Sat. 6:00 am – 6:00 pm
Sun. 7:00 am – 6:00 pm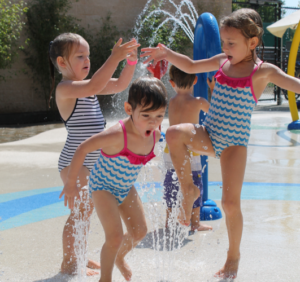 Mon. – Fri. 10:00 am – 6:00 pm
Sat. & Sun. 10:00 am – 5:45 pm
19 Great Pond Rd, Ridgefield, CT 06877
10:00 am – 7:00 pm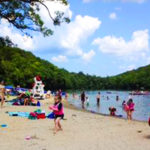 Martin Park Beach (located at 19 Great Pond Road) offers refreshing pond swimming and boating activities in a natural, spring fed pond. Lifeguard staffing is provided during operation hours from Memorial Day weekend through Labor Day. Enjoy our sandy beach, Zoom Floom, Wibit Slide, water mat, and playground; play beach volleyball or rent a kayak, paddleboard or paddle boat.
80 E Ridge Rd,  Ridgefield CT 06877,     203 438 5795
Ridgefield Playhouse Ridgefield, CT 06877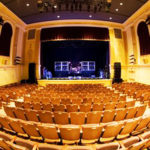 This is a venue known for music events and performing arts, located in Ridgefield, CT. Opened in 1938, the venue features seating for 500 people. This venue has hosted events for Paul Anka, Bruce Hornsby, Metropolitan Opera, Ron White, and Jewel, among other concert, comedy, and theatre events.
Box Office Tickets offers tickets to all the best shows. Check above for all available dates and times. Order your tickets online, or you can reach customer service by calling toll-free (1-800-840-9227), or via Live Chat.
25 Prospect Street
Ridgefield, CT 06877     (203) 438-0136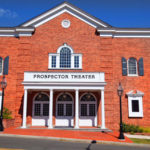 The Prospector Theater is a 501(c)(3) non-profit dedicated to providing meaningful employment opportunities for adults with disabilities through the operation of a premium, four screen, first-run movie theater. Employees of the Prospector, referred to as Prospects, are encouraged to sparkle, shine, and transform their passions into professions.
45 Ridgebury Rd
Ridgefield, CT 06877-1109
P: (203) 748-7008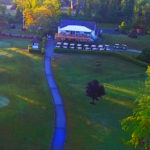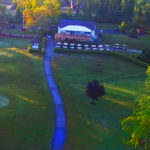 Ridgefield Golf Course
18 hole regulation length course
Municipal golf course
71 par | 6,444 yards | 123 slope
70.9 rating | Blue grass
The 18-hole "Ridgefield" course at the Ridgefield Golf Course facility in Ridgefield, Connecticut features 6,444 yards of golf from the longest tees for a par of 71 . The course rating is 70.9 and it has a slope rating of 123 on Blue grass. Designed by George Fazio, ASGCA, the Ridgefield golf course opened in 1975. Frank Sergiovanni, PGA manages the course as the Director of Golf.
Ridgefield trails have been carefully designed to provide a variety of hike/walk options for all fitness levels.
We have also placed convenient picnic areas along the rails for an occasional break to enjoy the beauty of the Recreation Center area.  The trails are regularly maintained by our staff, and we work hard to keep them in good condition and clean.
We ask that all walkers/hikers respect our beautiful area.  Only leave foot-prints on our trails!
60 Prospect Street / Shed: 203.431.2342 / Office: 203.431.2368 /
People of all ages are invited to join the fun at the Graham Dickinson SPIRIT Skate Park. Built in 1998 as a result of a grassroots effort to provide a safe and fun place for local skaters to congregate, the skate park was named in memory of a local teen who passed away a couple of weeks after the park's opening. Our skate park provides a rare opportunity for young people to congregate and socialize in a safe, friendly, and supportive environment while engaging in a personal best type of sport with no timetables or pressure to win or succeed.  The Skate Park Welcomes Scooters & Bikes!
Summer Hours: Open Every Day 12:00-7:00 pm,  Regular Hours of Operation (weather permitting):
Weekdays
3:00 pm – dusk
Summer/Weekends/Holidays
noon – dusk
The skate park follows the Ridgefield public school schedule. We open at noon on school holidays and closings.
111 Prospect Ridge
Ridgefield, Connecticut 06877
United States
(203) 438-4423
Website
Winter Garden Ice Arena Ridgefield, CT 06877 –
Winter Garden Ice Arena Ice Skating Rink is a 1 sheet indoor ice skating rink is open seasonally. It was founded in 1971.
Ice skating sessions for All Ages are one of the main attractions at Ridgefield's Winter Garden Ice Arena. Ice Skating provides great exercise and an opportunity to get out of the house – plus, it is not like exercising at the gym… skating is fun! Lace-em up and come join the others. Get on the ice and get ready for a great experience.
Ridgefield's Winter Garden Ice Arena Ice Skating Rink offers ice hockey leagues for all ages.  Whether you are a beginning skater looking to play on a team in an instructional league or an experienced ice hockey player looking to get out and play with others of a similar caliber, Ridgefield's Winter Garden Ice Arena Ice Skating Rink is the place to play. Give them a call at (203) 438-4423 to inquire about their leagues now. The experienced group will help get you ready for your next game