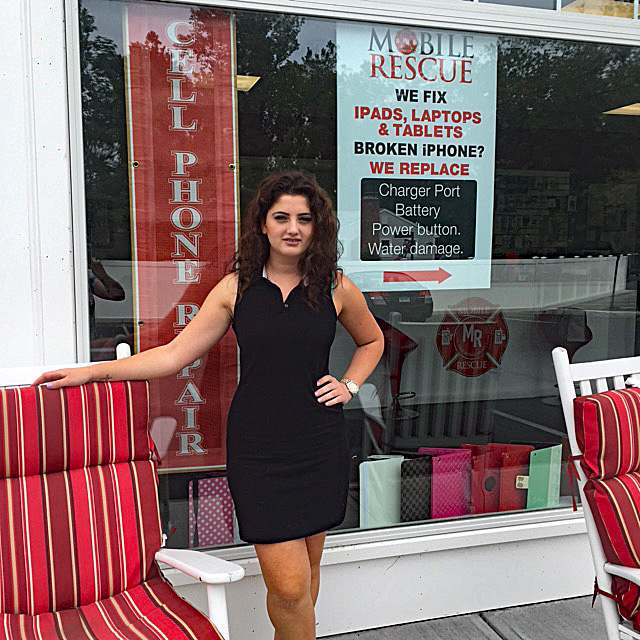 Arta Markaj has owned Mobile Rescue with her sister Marigona Markaj for the past two years and what a life saver this store is!  It's a bit embarrassing to admit, but one EDC member's family cracked the screen on three of their Iphones in a period of 10 days and needed to replace them all.  Mobile Rescue was chosen because of location, excellent service and their "can do" / "no problem" attitude.
Arta chose Ridgefield for her second store because market research indicated that the town demographics were favorable and there was no competition in the area. Her target market is anyone ages 10-100 who has a smart phone, PC, Mac, etc.   Arta loves what she does and her customers love her too.  Clients tell her sob stories of how their devises were damaged and therefore It's easy to see why Arta and her staff operate on a first name basis.  Mobile Rescue is a kind of digital confession shop; where Arta listens without
judgment and provides hope for salvage. The secret to her success is customer loyalty. Ridgefielders appreciate the personalized service, rapid turnaround time for repairs, as well as the ability to deliver products to their home if necessary.
Arta believes that the town should better connect retailers with each other very early on, perhaps even before they sign a lease. For example, her business is more successful when in close proximity to a wireless provider and she was unaware that one would be opening near the Early Bird Cafe.  Advance intelligence like this would be extremely valuable.
If you find yourself in need of a quick fix for an electronic device, head to Mobile Rescue.
159 Danbury Rd
Ridgefield, CT
(475) 215-5112