Casey Energy is located on Main Street in a beautiful, lovingly restored 1790 Colonial home where Shane Casey, his wife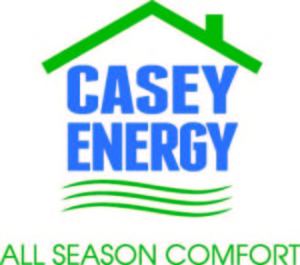 Suzanne and their children reside today.  Shane is the grandson of Bill Casey who founded the business in 1949. William H. Casey purchased his first oil truck in 1949 and – just like that – Casey Fuel was born.  Casey the Oilman, as Bill was known around town, did it all, delivering oil himself and running the business out of a garage just behind his house on Main Street in Ridgefield, CT.
Today, Shane Casey, Bill's grandson is President of Casey Energy and works at the same desk where his grandfather built the company, which is the same desk where Shane's father Mike ran Casey Fuel for more than 30 years, and the same desk where plans were laid to re-brand the company as Casey Energy in 2011.
Shane believes that their culture is their secret to lasting success. Customers and employees feel they are all part of the "Casey Energy Family" and he believes this sincere attitude permeates the business setting them apart from all competitors.
Casey believes in building long lasting and trusting relationships with their customers and that this adds value, especially over time. As a home services company, they strive to provide excellent service with easy payment plans. They have invested in new technology, providing drivers with tablets enabling them to automate the delivery process while improving accuracy and efficiency. They also use g-force technology; cameras that ensure safety for all drivers and customers.  Casey Fuel financially supports many of our towns non-profit organizations such as Ridgefield Boys and Girls club. Shane believes that its always important to give back to the community.
Shane's suggestion for the town of Ridgefield would be to embrace the value that our local businesses bring to the economy and the community. The town should work closer with business owners to help expand, grow and maintain their businesses.
Shane's advice for future business owners; "Come to Ridgefield". It is a great town, having many unique assets available to sole business proprietors. You can walk to work through our picturesque downtown, eat locally at great restaurants, visit so many cultural and arts programs. Ridgefield is also a great environment to raise a family.